Most doctors are not likely to suggest the use of an extending device when they are approached by men who wish to increase the length of their penis. However, researchers from Italy found in a clinical study that such a device could be helpful.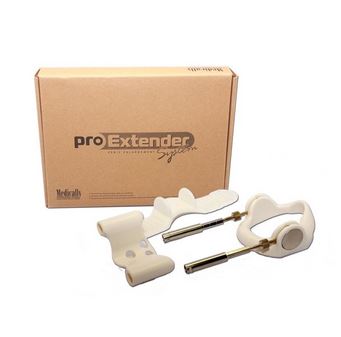 There are surgical procedures that can be performed to increase the length of the penis or to expand its girth. The problems with these, however, include high incidence of dissatisfaction among men who undergo them and risk of possible complications.
It will, no doubt, be interesting for some men with small penis to learn that a penile extender could shield them from the stress, risks, and costs associated with surgery.
Scientists from San Giovanni Battista Hospital at the University of Turin in Italy reported that daily use of a penile extender for six months increased the length of flaccid penis in men by nearly a third. The device also improved erectile function considerably.
Findings from the study were published in BJU International.
The researchers suggested the use of a penile extender as a potential alternative treatment to lengthening surgery.
The device called Andro-Penis featured a plastic ring along with a pair of dynamic rods and a silicon band. Traction is produced by the rods, while the band helps to hold the male organ in place.
Improved length and erectile function
The Italian researchers enlisted 21 men, whom they described as "highly motivated," for their study. Of the total subjects, whose average age was 47 years, 16 successfully completed the study, which lasted for 12 months.
The men first had psychosexual counseling before being told to put on the device for 4-6 hours daily for six months. They were to increase the device's traction from 600g in the first month to up to 1,200g in the sixth month.
Follow-up assessments were done in the first, third, sixth, and 12th months.
The average flaccid penile length of the subjects at baseline was 7.15 cm, or 2.82 inches. This increased to 9.45 cm, or 3.72 inches, by the 12th month – an increase of 32 percent.
Stretched penile length also increased, although not as much as flaccid length. The average of 9.62 cm (3.79 inches) at baseline rose by 18 percent to 11.32 cm (4.45 inches) by the 12th month.
There was also significant increase in average erectile function. It rose from 19.9 (out of 30) at baseline to 27.1, increasing by up to 36 percent.
However, there was no significant improvement in the average penile girth of 10.4 cm, or 4.09 inches, at baseline.
The men reported high levels of satisfaction in all categories, except penile girth. Of the four who decided not to continue, one stopped because he reportedly got satisfactory results in three months.
The researchers lost one subject to follow-up.
Significant results
Findings from this clinical study were significant, according to the Italian scientists. They expressed belief that a penile extender could provide a useful alternative to surgical procedures for penile elongation.
"Our study showed that the penile extender device produces an effective and durable lengthening of the penis, both in the flaccid and stretched state," said Dr. Paolo Gontero, a consultant urologist.
The findings may especially be interesting for men with a small penis because majority of them are not even considered a candidate for penile lengthening procedures. Only men who have flaccid penile length that is less than 4 cm are perfect for such surgery in America. However, just one of the subjects in the study had a penis shorter than that threshold.
The researchers recommended the penile extender as "first-line treatment" for men who may be interested in having penile lengthening surgery.