This review is all about Capitalist Exploits—sounds strange? Well, you will get all the information you need on this page, even if you have come across the term "Capitalist Exploits" before now.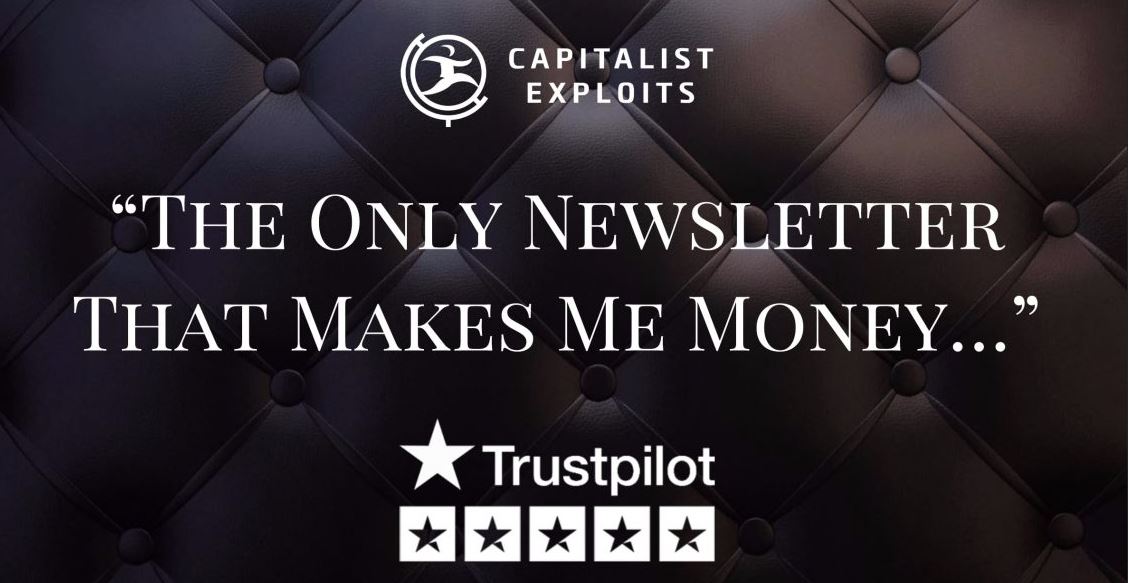 The review will provide answers to questions like:
What is Capitalist Exploits?
Who is the owner of Capitalist Exploits?
How does it work?
What do you get when you stick with Capitalist Exploits?
The answers to the above questions are below this piece. So, sit back and ride with us as we help you make the right decision when it comes to joining the right platform.
What is Capitalist Exploits?
Capitalist Exploits is a company built on a unique investment newsletter that offers followers asymmetric trading strategies, as well as other market news. You'll get ideas on how to diversify your investment portfolios and also the right trading approach to adopt for higher returns.
Asymmetrical investing is when there is an imbalance between the reward and the risk. An asymmetric trade values a positive result more than a negative one. The return on an asymmetric trade, for example, is having a 30% chance of winning and a 10% chance of losing.
Capitalist Exploits offers a members-only platform and subscribers are avail the best and latest trading investment advice.
The company boasts of a team of investment experts like the biggest names in the industry—investment bankers, hedge fund managers, individual investors, etc. This group of professionals is ready to help you find the best trading opportunities in which you have a higher chance of good returns.
Also, they will share with you the best strategies and lesson from past failures.
With a proprietary investment service known as Insider, you have to yourself an individual subscription that brings to the table asymmetric trading concepts to all parts of the world.
As we proceed, we look into the newsletter and their investment picking service—even how you can benefit from diversifying investment and trading strategies.
Capitalist Exploits is service-based with investment gurus at the helm of affair. They saddle themselves with the responsibility of helping clients achieve an above-market level rate of returns on specific investments.
They ensure that such investments have a low risk of control. The investment opportunities are available to customers via their newsletters. They rub shoulders with the likes of "Superman" Paul Scolardi and Petra Picks.
More Information about Capitalist Exploits
Capitalist Exploits has large followership going by their widely read newsletter. Their subscriber base boasts of over 20,000 investors and a subscription-based service known as Insider that renders international trading calls. It does not use trading software because no trading is done for you.
To handle trades, you have to open your brokerage account. On their recommendation is the like of Interactive Brokers. They're a trading discount broker, and they deliver effectively. You can rest easy knowing full well that they have your back.
==>Join Capitalist Exploits Risk Free<==
Who is the Owner of Capitalist Exploits?
The man behind Capitalist Exploits is no other than Chris Macintosh, and he's a legit investor with a high reputation.
The following bullet-point summaries him:
He hails from South Africa and has a humble background.
He obtained a law degree in London, which he acquired through his sweat and worked his way up at an investment bank & trading.
With other investment ideas in his head, he was able to set up another business at the age of 21 —it quickly provided him with more capital for trading.
 He made New Zealand his second home and started another real estate business, which he sold before the 2007/8 crash. The return on investment stood at 64 times the capital invested.
As an investment-driven individual, he went further to start a venture capital funds, investing $35m into early-stage companies from different parts of the world.
He sold the venture capital fund business, and he started a fund and made the research accessible to readers of his blog, which is the Insider subscription.
In the years that followed, Chris gave different speculations on a range of markets—even in areas people have little or no experience. He went through a self-development, redefining his trading skills along the way and repositioned himself as a thought leader.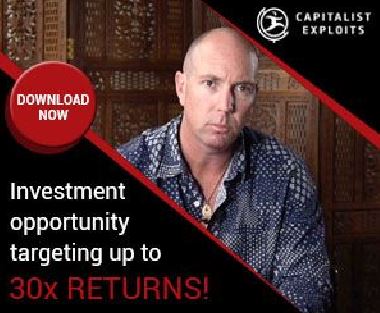 He is a humble fellow and a stock-picking guru you would want to associate with in all ramifications. His strategies to getting rich are such that came as a shock to him. And he still preaches about them till date.
His failures are out in the open for others to learn. That will give you an edge and the right footing you need when it comes to investments.
Regardless of his success over the years, Chris still believes his best years are ahead of him—including the high risk to investment capital.
While he feels that so many investors will make losses due to certain economic and geopolitical events, he believes his services stand to gain in a different area.
His confidence in the sphere of investments knows no bound—and you can take that to the bank. His experience in investment banking and trading has given him leverage and positioned him for greater benefits in this market.
 How does it work?
Your biggest concern would be how Capitalist Exploits renders its services to customers. The company thrives on being unique—that gives them an edge over other competitors in this market space.
The company achieves its objective through the provision of Insider information. It allows them to give out funds while expecting they'll make a high return.
Capitalist Exploits deals with companies with information on critical factors which may cause major shift, for example, nation-state geopolitics.
To guarantee any investment done in that regard, Capitalist Exploits will review the credibility of such information to ensure that it carries a low risk and it is controllable.
They ensure that you have a high rate of return—like six times the initial investment—to make up for future losses in case the venture fails to deliver on its promise.
With a subscription-based service, the information is available to interested clients through the Insider.
What do you get when you stick with Capitalist Exploits?
The Capitalist Exploits services are in three tiers. The highly anticipated newsletter comes at a no-cost for people that signs up. Their major project is the Insider Trading service, which is subscription-based. Again, there's a Resource Insider for only accredited investors.
Let's put the products and services offered in more perspective.
Capitalist Exploits wants to enlighten their customers and help them make better investment decisions. To this end, they offer services in the form of access to information packages, including free resources.
Here is a break-down to help you understand what we are talking abou
The Free Resources
This is for the company's paid-for trading newsletters, which are educational resources. It allows customers to have a broader perspective of technical investment and approaches. The free resources are usually about brokers' insights and internet privacy-related issues—including other recommended area of thought.
By going through the newsletter, you'll find well-research articles that apply to real life. You'll know about the execution of trades and how to manage risk effectively. For the best returns on investment, you have to sign up to their newsletter and join the 20,000 followers. That might be what you need to gain an edge.
Insider
It is the Capitalist Exploits' first product. You'll have to part with $1575 per year—which is paid upfront. If you pay for it, you'd have access to the following:
Live Questions and Answers
You have the opportunity to direct your various questions to Chris and also their talented group of professionals.
Video Database
With this, you have nothing to worry about when it comes to different investment questions. You'll get clarity as you watch these videos.
Trade Alerts 
Investors on this platform share trades which can benefit other investors—the ones that could generate high returns. You'll be given directive as to how to handle them.
Existing Portfolio Information
Over 450 Member Investor Forum
A Wide Array of Educational Resources 
With Capitalist Exploits, you'll get how-to guides as a customer. You'll also get trading stock and bitcoin trading option.
Access to an Investment Guru.
The Resources Insider
This product is highly-priced for apparent reason. You'll have to part with $3499 per year to get access to it. It is precisely for elite investors for investment in large amounts—and that is the reason for the high fee. You'll get access to the following benefits if you subscribe to this service:
Insider Ideas
As a member of Capitalist, you will be entitled to Resource Insider content, picks, bonus stock, including research.
Network
The platform creates a network of investors which you can interact with and learn from their experiences.
Placement Deals  
The number limits the service, and you can access ten placement deals which range from $2,000 to $10,000.
Access to Investment Gurus
30 Day FULL Money Back Guarantee
One of the good things about your subscription is the fact that a 30-day FULL money-back guarantee backs their offering. So, in case you're not satisfied with your membership and service, you can get a refund—with no question asked. Chris is confident about the delivery of his promises, so don't fret!
Capitalist Exploits: A Legit Company?
As far as we know, the company is not a scam—even though there is no information on how it carries out significant moves in the market. There is indeed no history of scamming people that we know of, and on that basis, we consider them a legit company.
They have five-star review ratings from some trusted platforms. The reviews stemmed from the fact that customers are content and willing to continue doing business with the company, and that is a good indication of their excellent delivery of services.
Even the reviews on their Facebook page has not stopped coming—all with a five-star rating.
The company's efficiency is second to none, and that is one of the reasons they boast of a large following. Aside from that, the owner of the company, Chris Macintosh, interacts with clients, responding to their concerns every time. Some of these concerns arise from the review sites.
When a company pays attention to its customers and responds to queries as quickly as possible, you'd expect excellent ratings all the way. Capitalist Exploits epitomizes this behavior.
Their contact details are as follows:
Physical address: 38 north canal Road, Singapore
Company Number: 201512
Telephone Numbers:
USA-+1 888 600 1016
UK-+44 203 966 6262
Australia -+61 283 115 357
Singapore- +65 316 52 495
Investment Opportunities
Going by the information out there, Capitalist Exploits provides you with an array of investment opportunities when you partner with the company. For example, the Resource Insider explained earlier grants you access to ten private placement deals. That is huge, and they're expected to yield high returns when you take the plunge.
If you're seeking for financial breakthrough, you might just hit it with Capitalist Exploits. The investments open to you when you purchase their service packages avail you the opportunity to invest wisely—and who wouldn't want to do that?
Pros
With reviews such as this, there will always be pros and cons. Before you decide to go down this road, you might want to go through this section with care.
Here are the pros that make this platform worth it:
 The company features subscription-based services that are packed with values
You'll get a full refund of your money if you're not satisfied with their services—it's a 30 day money-back guarantee
 Possibility of high returns on select investments
Cons
They do not disclose where their investment tips are coming from—and that might send a wrong message.
From all indications, it is a legit newsletter platform. All the ratings and testimonials point in the right direction.
If you're a serious investor, you can jump on it—it will broaden your horizon when it comes to making investment decisions that are worth it.
==>Join Capitalist Exploits Risk Free<==