The new long-haul dual engine aircraft of the American manufacturer departed from Everett in the northwest of the United States for a four-hour flight.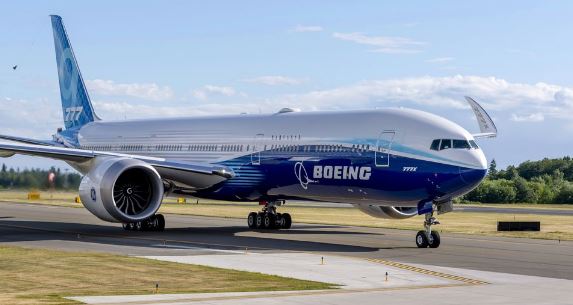 Boeing's new 777X long-haul aircraft took off on Saturday, January 25 at 10.10 am on its first flight from Paine airport to Everett in the northwestern United States. It landed at approximately 2:00 p.m.  Shortly before, the pilots had deployed the characteristic wings of this aircraft. These winglets are collapsible to improve the lift during the flight, but they fold up when the aircraft is on the ground in order to serve as many airports as possible.
This inaugural flight, which lasted almost 4 hours, marks the beginning of a series of flight tests that will lead to the certification of the aircraft. Boeing was forced to postpone this flight on Thursday and Friday due to the weather conditions and especially the wind.
The 777X, which can carry between 384 and 426 passengers, has an order book of 340 units, mainly from seven major airlines, including Emirates, Lufthansa, Cathay Pacific, Singapore Airlines and Qatar Airways. It is expected to compete with the A350 of the European aircraft manufacturer Airbus.
First deliveries are not expected before early 202′, instead of mid-2020 as originally planned, as the period of testing is expected to be extended and the certification process extended. The aircraft had major problems during the testing last September.
The 777X is expected to consolidate Boeing's dominance over Airbus in the long-haul market, a position weakened by the upcoming reduction in production rates for the 787 "Dreamliner" due to the lack of firm orders from China.
Related Articles:
More Bad News for Boeing: up to 50 Planes Grounded Due to Structural Cracks
Heads Are Rolling at Boeing Because of the 737 Max Crisis
Iran Acknowledges That It Accidentally Shot Down a Ukrainian Plane