It is definitely not an exciting thing seeing that one is experiencing hair loss. While it is normal for every human to lose hair, even on daily basis, this can be quite troubling when it is significant. Your hair is certainly one of the major things that enhance your looks.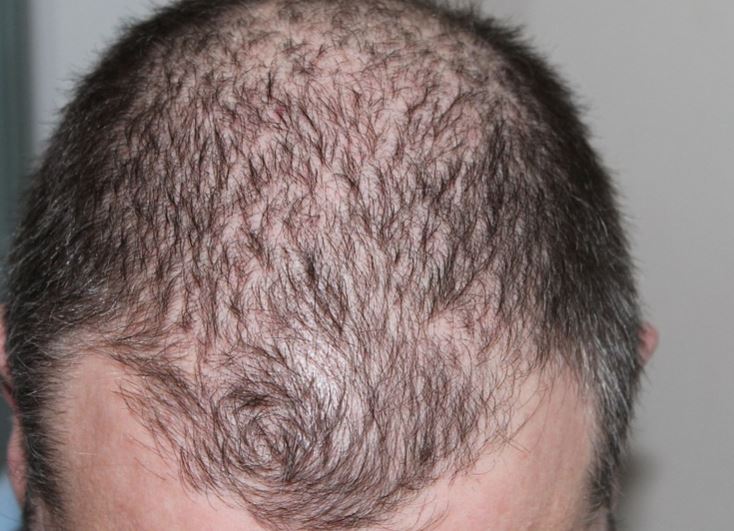 Thankfully, there is a wide variety of products available for combating hair loss and promoting growth. Some of these are chemical, some natural, and others a mix of both. We present here two of the most popular hair loss offerings with reports of efficacy.
Before going further, it is pertinent to mention that there are diverse causes of hair loss. In most cases, the root is dihydrotestosterone (DHT). Most of the products that work seek to tackle this substance.
What is DHT?
Hair loss is a symptom of something going wrong at the root of the hair, within follicles. While different factors may cause this, DHT is believed to be the major culprit. But what is it? You might ask.
DHT is an androgen or male hormone. This substance results from conversion of testosterone by the enzyme 5-alpha reductase. It is the root cause of androgenetic alopecia or male pattern baldness.
When the levels of DHT become elevated in people who are genetically sensitive to the substance, the hormone causes a disruption in normal hair growth cycle. Follicles shrink, leading to hair thinning and shedding. Eventually, hair follicles may become permanently inactive without proper preventive measures.
The top products for hair loss are more often than not DHT blockers. The ones we discuss below fall into that class, but do more than just block DHT.
Profollica
When talking about DHT blockers on the market, Profollica definitely ranks among the best, especially with regards to the natural offerings. It is specifically for men experiencing androgenetic alopecia or pattern baldness. This is a product of Leading Edge Health, a reputable supplement company.
The treatment system doesn't only prevent hair loss by blocking DHT. The manufacturer says it offers other benefits, including improvement in hair elasticity and color. It regulates sebum production, strengthens hair, and prevents premature graying.
Unlike many of its rivals, this product is a two-part treatment system. It just doesn't give you pills, but also an Activator Gel with Trichogen. This increases the likelihood of effectively stopping hair loss and provides nutrients that support hair growth.
Profollica works both inside and outside. This two-pronged approach makes it more likely to halt hair loss and promote new growth.
Profollica boasts a blend of numerous ingredients, some of which inhibit DHT production and others provide nutrients for hair growth. Notable among these are biotin, Kigelia africana fruit extract, Ginkgo biloba leaf extract, Panax ginseng root extract, niacin, and L-Arginine.
The Trichogen in the Activator Gel formulation was clinically shown to reduce hair loss in 90 percent of men. You will hardly find this ingredient in majority of rival natural hair loss offerings.
The company manufacturing Profollica offers a 67-day money back guarantee on the purchase of the hair treatment system.
Procerin
Here is another natural DHT blocker for hair loss. Procerin is a product of Speedwinds Nutrition. It has men suffering from male pattern baldness as its targets. The maker says this one offers what you need to fight the main cause of hair loss and promote healthy hair growth.
Procerin bears a key similarity to Profollica. It comes as both tablets and an XT Topical Activator Foam, making it more likely to be helpful. You can use either of the two, although it is best to use them together, according to the manufacturer. Using the tablets and foam together makes sense, actually.
The pills boast ingredients that block DHT and provide nutrients for the hair. Those in the topical foam prevent DHT from binding to hair follicles while promoting hair growth in the temple and crown area.
Procerin is loaded with natural ingredients, a number of which has research showing how they can benefit hair health. A good example is saw palmetto berry, which is probably best known for its usefulness in combating an enlarged prostate. It inhibits the activity of 5-alpha reductase enzymes that converts testosterone to DHT.
Pygeum bark extract, Gotu kola, Muira puama, stinging nettle leaf extract, grape seed extract, zinc, and vitamin B6 are some of the other ingredients.
One of the things that one may say stands Procerin apart from rival offerings is that it is backed by a clinical study. In that trial, about 94% of subjects expressed opinion that the product helped slow hair loss.
Buyers can take advantage of an unconditional 90-day money back guarantee in case they feel it doesn't make any difference. This is quite impressive and unlike what you'd usually get with many other hair loss products.
Why These Products?
With numerous treatments available for hair loss, you may wonder what's so special about Profollica and Procerin.
For one, these products are safer than prescription hair loss products. Finasteride (Propecia), for instance, can produce emotional and sexual side effects, including erectile dysfunction and depression, which may last long after you stop using it. Yet, this drug works mainly by blocking DHT as well.
The two-step approach of these hair treatment systems is also impressive. This stands them apart from most other natural blockers, including some of the highly rated ones. You get both oral supplements and topical solutions for thorough hair loss treatment.
Furthermore, unlike Propecia, Profollica and Procerin do not stop at just blocking DHT. They also provide your hair follicles with nutrients that can support hair growth.
You get impressive money back guarantee on the hair loss products. But it is advisable to be sure DHT is responsible for your hair loss before getting either of the treatment system.