In 2017, life expectancy in the United States was 78.6 years, three months less than in 2014. This decline is explained by the opiate crisis, alcohol abuse and suicides, three " deaths of despair" according to the researchers.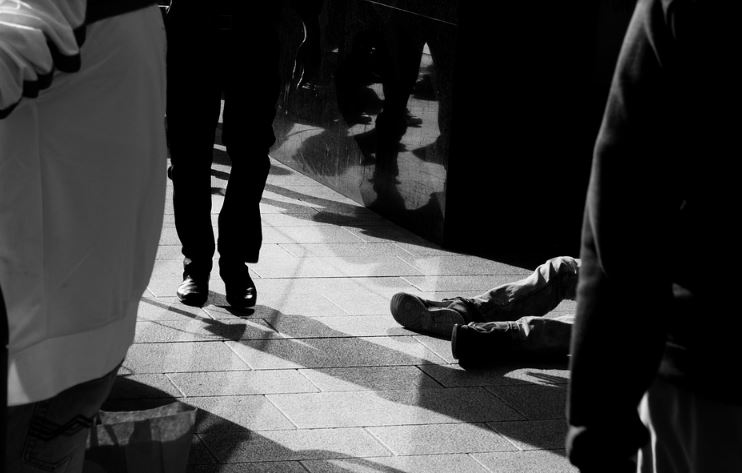 More and more Americans are dying at their peak age, a trend not seen in other rich countries. Although life expectancy is often considered a barometer of a country's overall health, it has fallen for the third consecutive year in the United States, according to a study published Tuesday, Nov. 26 in the Journal of the American Medical Association (JAMA). Although it increased nearly 10 years between the late 1950s and 2014, from 69.9 years to 78.9 years, in 2017 it fell to 78.6 years, three months less. In addition to the deaths caused by the opioid crisis that has plagued the country since the early 2000s, alcohol abuse and suicides are heavily involved. Three conditions that Steven Woolf, director of the Center for Society and Health at Virginia Commonwealth University and one of the authors of the study, calls " deaths of despair" that especially affect people aged 25 to 64. Chronic diseases such as obesity and diabetes are also involved.
To arrive at these conclusions, the researcher and his colleagues examined numbers from the U.S. mortality database and the Centers for Disease Control and Prevention's WONDER database. In detail, fatal overdoses increased by 386.5% between 1999 and 2017 among middle-aged people. At the same time, for this age group, alcohol-related mortality rates, including chronic liver disease and cirrhosis, increased by 40.6 percent, while the suicide rate increased by 38.3 percent.
The most affected states are Ohio, West Virginia, Kentucky, Indiana, New Hampshire, Maine, and Vermont, areas that were particularly affected by the opiate crisis, the authors note.
The United States has been lagging for some time.
"But we haven't lost sight of the fact that it is the regions of the country that have been hit so hard by the economy – the rust Belt – that have lost jobs in industry and shut down steel mills," Steven Woolf told ABC News. Families and communities have faced many years of economic stress .  This can affect health in a way that doesn't go beyond unhealthy behavior," he continues.
Life expectancy has increased in industrialized countries in the last century. But the United States has lagged behind other countries for some time, he says. Meanwhile, in other rich countries, it continues to grow.
This study appeared only one month after a National Center for Health Statistics (NCHS) report on the same topic. According to statistics released in late October, overdoses accelerated the first major drop in life expectancy in the United States since the AIDS epidemic in the early 1990s.
United States ranked 28th in the OECD in terms of life expectancy
"This is the first major decline since 1993, when it was mainly due to the AIDS epidemic," explains Renee Gindi, statistician and lead author of the report. In all, since the early 2000s, 300,000 people have died of an overdose in the United States. According to provisional figures, in 2018, this crisis caused 32,000 deaths. According to the report, the 25-44 age group appears to be the most vulnerable.
This study also showed disparities in life expectancy between communities. In detail, Blacks (74.9 years) live three and a half years less than Whites (78.5 years) and nearly seven years less than Hispanics or Latinos (81.8 years). The latter live longer than white Americans, despite generally lower socioeconomic status. This may be explained by why immigration would select healthier individuals, the researchers argue. Finally, after falling dramatically under Obama, the number of Americans living without health coverage has risen again since 2016. Thus, by 2018, 13.3% of U.S. adults and 5.2% of children were uninsured.
According to the latest publication, Health at a Glance, published on Thursday, November 7 by the Organization for Economic Cooperation and Development (OECD), published in early November, the United States ranks 28th in life expectancy among OECD countries. Thus, the difference is four years with France. Although we ranked tenth in the list with 82.6 years of average longevity (85.6 years for women, 79.6 years for men), in our country the increase in life expectancy has decreased since 2011. This is due to the excessive consumption of tobacco, alcohol and junk food.
Anti Aging articles
Why Does the Average Person Gain Weight with Age Regardless of Diet and Level of Activity?
Diet Foods Are Making People Fatter
Genf20 Plus Review – Benefits Side Effects And Testimonials
Top HGH Supplements Reviews, Cost, Benefits and Side Effects
HGH Benefits, Side effects And Deficiency Symptoms
HyperGH 14x Reviews: Will it Make it Easier for You to Build Muscles?
4 Reasons Why You Can't Lose Weight Despite Eating Well and Exercising
The Beverly Hills Diet: Does It Work and Is It Safe?
References
https://tiih.org/who/people/scholars-and-fellows/steven-woolf/
https://www.c-span.org/video/?466938-5/washington-journal-dr-steven-woolf-discusses-life-expectancy-us