A new cream, called ruxolitinib, effectively repigments the skin of people suffering from vitiligo.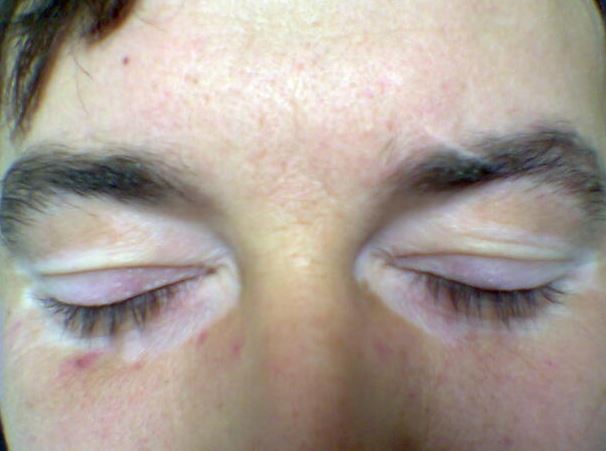 A clinical study has just demonstrated the effectiveness of a cream (ruxolitinib) in the treatment of vitiligo, an autoimmune disease that depigments the skin. "Unfortunately, vitiligo is often stigmatized, which can have significant psychosocial consequences for patients," says Dr. David Rosmarin, dermatologist at Tufts Medical Center and study director. Current treatments such as phototherapy, corticosteroids and calcineurin inhibitors have limited efficacy," he adds, "and are expensive.
Facial vitiligo reduced by half
For two years, his team conducted the largest randomized study ever conducted on vitiligo. 157 Americans affected by the disease formed a cohort. One group applied ruxolitinib daily to the skin, while the other received only a placebo cream. Results: About half the patients using ruxolitinib saw their facial vitiligo reduced by half (50%), compared to 3% in the placebo group. The side effects of ruxolitinib were mild, including redness, irritation and some acne.
"Ruxolitinib has the potential to change the way we treat vitiligo. This treatment has effectively repigmented the skin and has very few side effects," says Dr. Rosmarin. "We believe that an even better response to the treatment would be possible with the continuous use of Ruxolitinib over a long period of time, combined with phototherapy and sun exposure. We hope that this treatment will make a difference for the millions of people affected by vitiligo worldwide," he concludes.
A disease that progresses in relapses
Around 50 million people (1% of the population) are affected by vitiligo worldwide, including actor Jon Hamm, model Winnie Harlow and actor Steve Martin. The disease affects all ethnic groups in the same way, but is most evident in those with dark skin.
This autoimmune disease occurs when pigment carrier cells die or are unable to function normally. It progresses in relapses, under the influence of various factors such as stress, anxiety, shock or psychological friction, and sometimes appears in contact with chemicals.
References:
https://www.sciencedaily.com/releases/2019/06/190617110544.htm
Articles You May Like!
Why Does the Average Person Gain Weight with Age Regardless of Diet and Level of Activity?
Chronic Fatigue: Do You Sleep Really as Well as You Think You Do?
Millennials Are in Poor Health According to Blue Cross Blue Shield
Diet Foods Are Making People Fatter
Common Negative Effects of Stress on Health
LED Lamps and Displays: How to Protect Yourself from Blue Light?
Top HGH Supplements Reviews, Cost, Benefits and Side Effects
Weight Loss Reduces the Frequency of Migraines in Obese People
Growth Factor Plus Benefits and Side Effects
Vigrx Plus Review – Benefits, Side Effects And Where to Buy It Safely?
Remote Laser Ultrasound Images of Humans Are Now Possible
The Beverly Hills Diet: Does It Work and Is It Safe?
CBD: What Is It And What Are Its Benefits And Risks?
Breast Surgery: Eye Tracking Technology for Better Looking Results
Botox and Plastic Surgery Can Cut Us out of Our Emotions
CBD Oil Benefits – Can it Treat Pain, Insomnia, and Anxiety
Researchers Discover Part of the Brain That Controls Our Impulses
Breast Surgery: Eye Tracking Technology for Better Looking Results
Labiaplasty Is Becoming Increasingly Popular Among Teenagers
Listening to Music Before Surgery Could Help Patients Calm Down
More Men Are Doing Cosmetic Surgery
What Are the Most Popular Cosmetic Surgeries in the US?
Soft Drinks Promote Enamel Erosion in Obese People
Plastic Surgery: Young People Increasingly Addicted to Botox