In a new study, German researchers identified cellular phenomena in the intestine that may influence the development of multiple sclerosis.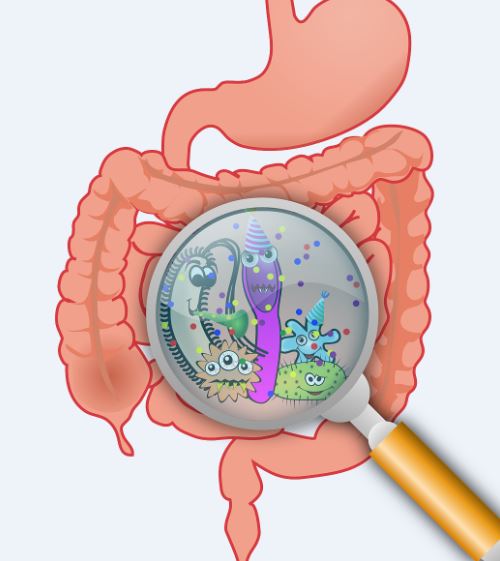 In recent years a lot of research has been done to emphasize and improve the understanding of the intestinal-brain connection and the influence of the intestinal microbiota on brain health and morale in particular.
In addition, because of the important connections with the nervous system, the intestine is suspected of playing an important role in the development and progression of neurodegenerative and/or autoimmune diseases. This is particularly the case with multiple sclerosis, in which the immune system reacts abnormally and attacks myelin, a substance that forms a protective sheath around the nerves.
A team of neurologists at St Josef's Hospital of the Ruhr-University of Bochum (Germany) has identified a mechanism that may partially explain the influence of the intestine on the development of multiple sclerosis (MS). In a study published in PNAS magazine, the team used a mouse model to demonstrate that a protein called Smad7 mobilized certain immune cells in the intestine, causing inflammation of the central nervous system (CNS). The most pronounced clinical symptoms, similar to MS, appeared in rats with high levels of Smad7 in the T cells present in the intestine. They then migrated to the CNS, where they caused inflammation. In rats genetically modified to be free of Smad7 protein, there was no evidence of MS-like disease.
In a second step, the researchers analyzed tissue samples from the intestines of 27 patients with MS and compared these samples with those from 27 healthy individuals. The comparison showed similar results as in rats: Smad7 signaling protein appeared more frequently in intestinal mucosa samples from MS patients than in samples from healthy individuals.
"For other autoimmune diseases such as Crohn's and other inflammatory bowel diseases, researchers are already aware that Smad7 offers a promising therapeutic target; our results suggest that the same is true for multiple sclerosis," says Ingo Kleiter, co-author of the study. "Researchers are increasingly investigating the involvement of the intestine in the development and progression of MS," added Simon Faissner. So this protein could be a therapeutic target for new treatments aimed at reducing the progression of MS.
Articles You May Like!
Why Does the Average Person Gain Weight with Age Regardless of Diet and Level of Activity?
Chronic Fatigue: Do You Sleep Really as Well as You Think You Do?
Millennials Are in Poor Health According to Blue Cross Blue Shield
Diet Foods Are Making People Fatter
Bamboo Cups Are Dangerous to Your Health
Common Negative Effects of Stress on Health
LED Lamps and Displays: How to Protect Yourself from Blue Light?
Top HGH Supplements Reviews, Cost, Benefits and Side Effects
Weight Loss Reduces the Frequency of Migraines in Obese People
Growth Factor Plus Benefits and Side Effects
Vigrx Plus Review – Benefits, Side Effects And Where to Buy It Safely?
Remote Laser Ultrasound Images of Humans Are Now Possible
The Beverly Hills Diet: Does It Work and Is It Safe?
CBD: What Is It And What Are Its Benefits And Risks?
Breast Surgery: Eye Tracking Technology for Better Looking Results
Botox and Plastic Surgery Can Cut Us out of Our Emotions
CBD Oil Benefits – Can it Treat Pain, Insomnia, and Anxiety
Researchers Discover Part of the Brain That Controls Our Impulses
Breast Surgery: Eye Tracking Technology for Better Looking Results
Labiaplasty Is Becoming Increasingly Popular Among Teenagers
Listening to Music Before Surgery Could Help Patients Calm Down
More Men Are Doing Cosmetic Surgery
What Are the Most Popular Cosmetic Surgeries in the US?
Soft Drinks Promote Enamel Erosion in Obese People
References: