The Democratic Republic of Congo is facing the worst measles epidemic in the world and has registered 6,000 deaths in a single year. The World Health Organization calls on the generosity of its donors to launch a new immunization plan.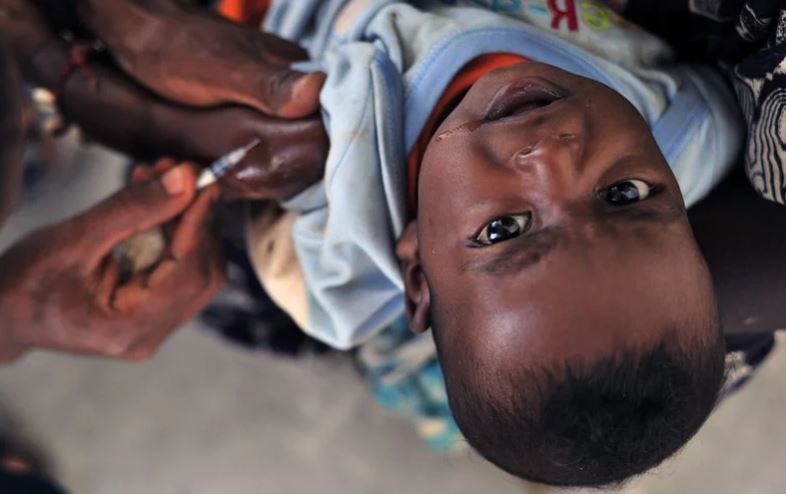 While the Democratic Republic of Congo has been frantically fighting the Ebola virus for several months, it also faces "the world's worst measles epidemic," according to a statement by the World Health Organization (WHO).
By 2019, more than 18 million children under the age of five have been vaccinated nationwide and "about 310,000 suspected cases" of measles have been identified, the WHO said. Twenty-five percent of reported cases of measles occured in children over five years of age, who are the most vulnerable. A total of 6,000 people have died from the measles in one year.
A new vaccination plan for children 6-14 years old
The WHO is asking for an additional $40 million to implement a new vaccination plan, especially for children between 6 and 14 years of age. "We urge our donor partners to increase their emergency aid," said Dr Matshidiso Moeti, WHO Regional Director for Africa.
The global measles outbreak has intensified, mainly due to a lack of confidence in vaccines. However, the situation has worsened in the DRC with malnutrition, unequal access to health care and insecurity in some areas of the country. At the same time, unfortunately, the country is waging a relentless battle against the Ebola virus, which, according to a recent report, has killed 2,231 people in 3,391 recorded cases. There has also been an epidemic of yellow fever and an outbreak of malaria.
Measles in the US
In 2018, nearly 9 million people in the world were infected with the measles despite the existence of a vaccine, and 142,000 died from it, 32,000 more than in 2017. The number of cases of measles in the US according to the CDC was over 971.
References:
https://www.bbc.com/news/world-africa-51028791
DRC in the News:

The Who Just Prequalified the First Ebola Vaccine
Ebola in the DRC: 300 Attacks, Including Six Fatal Ones, on Frontline Staff
Articles You May Like!
Why Does the Average Person Gain Weight with Age Regardless of Diet and Level of Activity?
Chronic Fatigue: Do You Sleep Really as Well as You Think You Do?
Diet Foods Are Making People Fatter
Common Negative Effects of Stress on Health
Genf20 Plus Review – Benefits Side Effects And Testimonials
LED Lamps and Displays: How to Protect Yourself from Blue Light?
Top HGH Supplements Reviews, Cost, Benefits and Side Effects
Weight Loss Reduces the Frequency of Migraines in Obese People
Growth Factor Plus Benefits and Side Effects
The Beverly Hills Diet: Does It Work and Is It Safe?
Wada Keeps Cannabidiol of the Banned Substances and Methods List for a 3rd Year
CBD: What Is It And What Are Its Benefits And Risks?
CBD Oil Benefits – Can it Treat Pain, Insomnia, and Anxiety
CBD Pure Review – Benefits, Cost, Testimonials and Side Effects
Soft Drinks Promote Enamel Erosion in Obese People