For the first time, researchers have studied the interactions between the brains of children and adults as they play together.
What happens when a baby and an adult play together?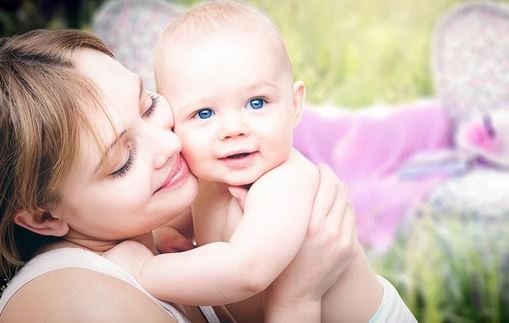 According to a study by University of Princeton, their brains synchronize. In Psychological Science, researchers show that an adult and an infant interacting with each other are on the same wavelength: their brain activity is concentrated in the same areas.
"Previous studies have shown that adult brains synchronize when watching movies or listening to stories, but we know very little about the development of this neural synchronization in the early years of life," says Elise Piazza, director of the study. The researchers have developed an infrared cap, which is capable of producing images of the brain. Brain oxygenation is the marker used to determine the presence of neural activity.
A synchronization of brain activity
Forty-two children participated in the research: an adult played with them, sang songs or read stories. Twenty-one babies were excluded from the study because they shook too much, three refused to wear the infrared hood. In the end, 18 children, aged 9 to 15 months, remained in the sample. Analysis of brain activity showed that during face-to-face interactions the brains of adults and infants are perfectly synchronized. These are the areas related to understanding the environment, as well as the prefrontal cortex, which is involved in learning. The latter was previously considered underdeveloped in infants. When the adult and the baby were separated, this synchronization disappeared.
A mutual influence of the brain
"The adult brain seems to predict when the child will smile, and the child's brain anticipates when the adult will talk like an infant, both brains follow the toys," explains the author of the study. When a baby and an adult play together, their brains influence each other dynamically. The researchers believe these findings can help medical staff better adapt to the children they come into contact with.
Articles You May Like!
Why Does the Average Person Gain Weight with Age Regardless of Diet and Level of Activity?
Chronic Fatigue: Do You Sleep Really as Well as You Think You Do?
Millennials Are in Poor Health According to Blue Cross Blue Shield
Diet Foods Are Making People Fatter
Common Negative Effects of Stress on Health
LED Lamps and Displays: How to Protect Yourself from Blue Light?
Top HGH Supplements Reviews, Cost, Benefits and Side Effects
Weight Loss Reduces the Frequency of Migraines in Obese People
Growth Factor Plus Benefits and Side Effects
Vigrx Plus Review – Benefits, Side Effects And Where to Buy It Safely?
Remote Laser Ultrasound Images of Humans Are Now Possible
The Beverly Hills Diet: Does It Work and Is It Safe?
CBD: What Is It And What Are Its Benefits And Risks?
Breast Surgery: Eye Tracking Technology for Better Looking Results
Botox and Plastic Surgery Can Cut Us out of Our Emotions
CBD Oil Benefits – Can it Treat Pain, Insomnia, and Anxiety
Researchers Discover Part of the Brain That Controls Our Impulses
Breast Surgery: Eye Tracking Technology for Better Looking Results
Labiaplasty Is Becoming Increasingly Popular Among Teenagers
Listening to Music Before Surgery Could Help Patients Calm Down
More Men Are Doing Cosmetic Surgery
What Are the Most Popular Cosmetic Surgeries in the US?
Soft Drinks Promote Enamel Erosion in Obese People
References:
https://journals.sagepub.com/doi/10.1177/0956797619878698
The Composition of Intestinal Microbiota Can Be Manipulated With Food